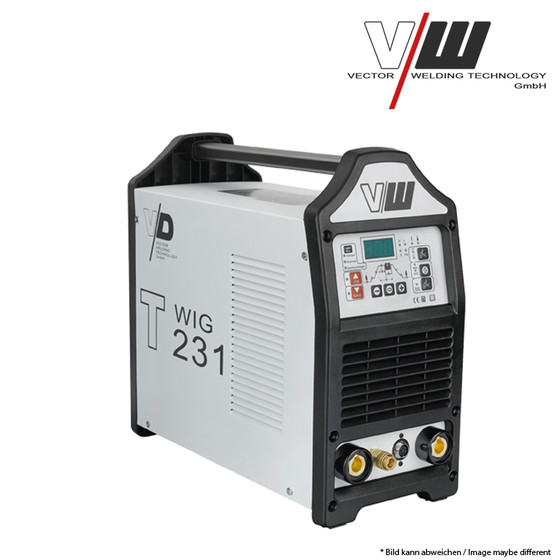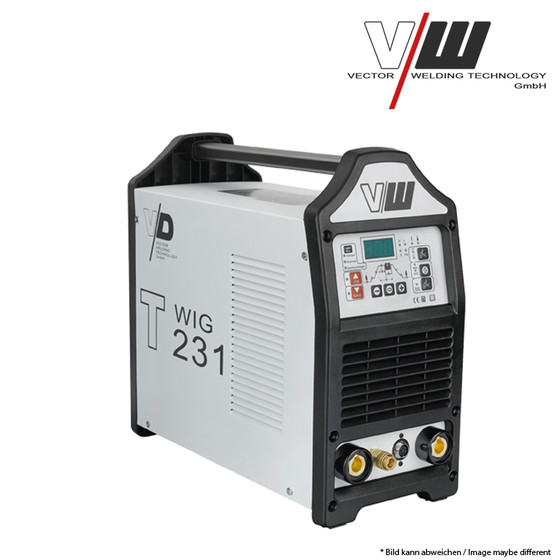 VECTOR Digital Welding machine DC TIG T231 Plus Inverter TIG ARC MMA STICK Electrode
---
Our Vector Digital welding machine device for challenging tasks. DC TIG T231 Plus Inverter TIG ARC MMA STICK Electrode DC TIG 200 A, Puls, TIG Puls, MMA/STICK 200 A, IGBT (Infineon)
PDF list
---
Descript of VECTOR Digital Welding machine DC TIG T231 Plus Inverter TIG ARC MMA STICK Electrode
A total solution of precise AC/DC TIG PLUS welding and plasma cutting machine.
The T231 is a small but rugged, high-performance DC TIG and Stick welder designed for alloy fabrication, process piping, or critical maintenance work. Accurate and refined HF ignition and the necessary control, power and work capacity to reliably complete a variety of professional welding tasks. Weights at a portable 10.9 kg, the machine automatically connects to 115V or 230V (in PFC) service and features simple torch connections that provide for quick changeover from TIG to Stick welding.

---
Important functions & device information at a glance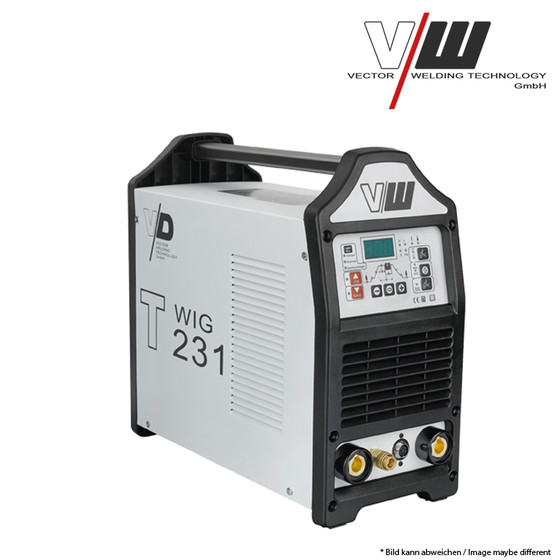 Precision Arc Performance:
♦ Pulse control:
♦ Built in pulsing functions help minimize heat input on thin materials,and provide for a faster freezing weld puddle for uphill welding on curved surfaces such as process piping. The TIG pulser also helps moderate filler metal deposition for consistent bead appearance.
♦ High-frequency TIG starting:
♦ Makes it easy to establish an arc under a variety of conditions.Enhances quality by minimizing the potential for weld contamination created by tungsten inclusions in the weld.
♦ Powerful with heavy duty power sources at maximum output current: 200A @60%.
♦ Easy operation and full functions: from the control panel allowing fast adjustment of all necessary controls for DC Pulse TIG welding with either HF or contact ignition.
---
Technical specifications


T231




WIG
E-HAND

Setting range welding current

10A-200A
10A-200A

Duty cycle at ambient temperature

40 °C
40 °C
60%
200A
200A
100%
155A
155A

Open circuit voltage

56V
56V

power frequency

50 Hz / 60 Hz
50 Hz / 60 Hz

Mains fuse (slow)

1X16A



Mains voltage (tolerances)

1 x230 V (±15 %)



Max. Connected load

4.6kVA
7.1kVA

Receiving generator power

7.5kVA
9.5kVA
cos f
0.93
0.93

efficiency

85%



Dimensions of device LxWxH in mm






Weight device






protection

IP23
IP23
---
Other devices from this product category